Nazarí Menu in the Alhambra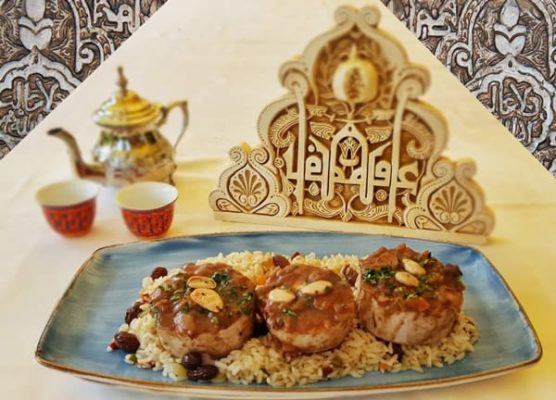 General Information
As long as you want to enjoy the menu and surroundings
The lamb, the Moorish pastries, the use of different sauces, cheese, spinach, raisins or some spices were recognizable features of Nasrid gastronomy in its day. These flavors, whose origin dates back centuries in time, have reached the present day. In Granada, next to the Alhambra itself, it is possible to taste dishes inspired by the Nasrid past.
Do not miss the opportunity to try an authentic Nasrid menu inside the Alhambra enclosure. You will be able to enjoy the most special food and flavors of the Nasrid period in a unique environment. All this in a popular Carmen Granadino. You will have the opportunity to travel centuries back in time through a unique gastronomy.
Enjoy a meal in a privileged enclave, the Alhambra.
We will taste the most traditional dishes from the Nasrid period.
Transport yourself to the 13th century through your palate
Included
Nasrid Mini Cake: Delicious rolled lamb pastry
Garnati Salad: Fresh spinach salad, cheese, raisins and tomato vinaigrette
Main course To choose between:
1. Nasrid-style chicken
Chicken medallions stuffed with vegetables and nuts, almonds and honey sauce, garnished with rice and vegetables
2. Vizier's Lamb
Baked and spiced leg of lamb (boneless) accompanied by migas, padron peppers and yogurt cream
3. Salmón Iskabay Almorí
Warm pickled salmon and pickled vegetables
Andalusian cream with cane honey
The menu will be accompanied by the best drinks from the land of Granada
DRINKS INCLUDED
INCLUDES 2 drinks per person to choose between:
1 glass of Rey Zagal white or red wine, or 1 31cl glass of Especial Alhambra beer, or 1 35cl soft drink, or Lanjarón de Sierra Nevada mineral water + Moorish coffee or tea.
Other extra drinks are not included
Observations: The menu is individual and therefore cannot be shared between two or more people.
Organization place
Alhambra. C. Real de la Alhambra, s/n, 18009 Granada
Cancellation Policy
Free cancellation up to 48 hours before.