Free Tour Albayzín y Sacromonte, Unesco Heritage Neighborhoods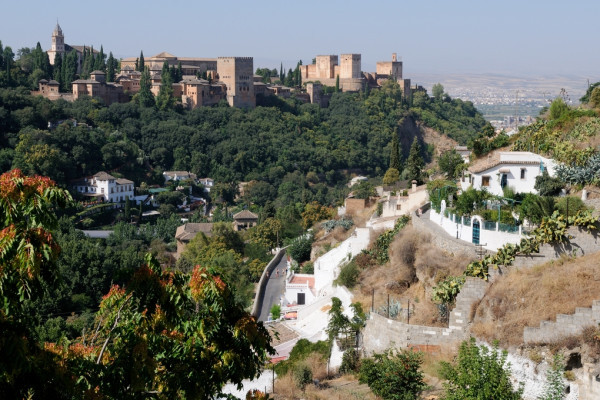 General Information
2.5 hours

Spanish, English
What is a Free Tour?
A Free Tour is a type of tourist route where the client is not charged anything in advance, but at the end of the route it is you who value the work of our autonomous guides with a financial contribution.
Description of the Free Tour
If you travel to Granada, this Free Tour is one of the essential activities along with the visit to the Alhambra. With a tour that will allow you to get to know the city much better and more specifically two neighborhoods declared a World Heritage Site by UNESCO in 1984: Albaicín and Sacromonte.
The Albaicín is the neighborhood with the most history in Granada. You will walk through its narrow cobbled streets and see some of the most spectacular Cármenes (typical Nasrid housing), the result of the union of two cultures: Arab and Christian. You will also visit the Mudejar churches, the cisterns and the Mirador de San Nicolás, which will give you spectacular views.
After the Albaicín they will visit Sacromonte, a gypsy neighborhood famous for its cave houses. Its streets will give you spectacular views of Granada and the Alhambra. You will be transported to another era, in a reference place for flamenco and gypsy zambra. They will also have the opportunity to learn what a cave house is like, its peculiarities and the reasons why no two are alike.
Enjoy the star Free Tour of Granada.
The Muslim neighborhood and the gypsy neighborhood come together in a single visit.
Discover in an enjoyable way the two essential neighborhoods of Granada.
Incluided
Not Included
Monument tickets
Food and Drinks
The option for groups of more than 6 people requires prior payment. Choosing this option does not imply that the Free Tour is private and that the guide will accompany you exclusively, you will participate in the tour with the rest of the reservations.
What to bring
Languages
Cancellation Policy:
If you are unable to attend the Tour, please notify us by phone or WhatsApp.
Meeting Point
Plaza Santa Ana / Search Orange Umbrella from My Top Tour
How to arrive
More information
With our guided tour "Barrios Patrimonio de la UNESCO" we will visit the muslim neighborhood of Albayzín and the gypsy neighborhood of Sacromonte, two of the most characteristic neighborhoods in the world, with beautiful views due to their location, in front of Alhambra.
Two hills, both located in front of the Alhambra, from which you can see the Nazari monument and Sierra Nevada in the background, amazing photo place.
In this route of approximately two and a half hours, you will cross narrow streets, neighborhoods that will transport you to past centuries, and in which you will feel the charm of a magical city.